The Coronavirus (COVID-19) pandemic is an unprecedented economic disaster. Fortunately, Southern Virginia is home to resilient and creative problem solvers. This SOVA COVID-19 Business Resource page, powered by StartupSpace, is a living database of resources to help your business respond and recover from this crisis.
---
GO Virginia is looking for new ways to use available grants to help businesses impacted by COVID-19. If you have an idea on how we could support businesses in Region 3 in these times, please share it with us by filling out the form below.
Submit Your Idea Here
---
Message from Chairman Randy Lail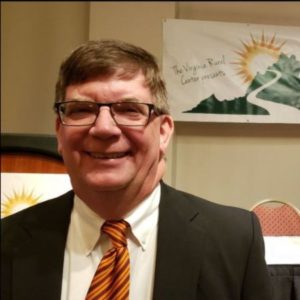 Dear GO Virginia Region 3 Family,
During the difficult times of COVID-19, we are thinking of everybody who has been impacted: businesses, organizations, communities, and individuals. We feel for everybody and what they are going through in these uncertain times.
First, we want to encourage all of you to follow whatever guidelines have been issued for your locality and your industry. It is our responsibility to do the things we need to do now. If we all stick to the rules, the recovery coming out of this crisis will be much quicker.
This is different from the economic downturns we have experienced in the past. No one knows what lies ahead of us and where this crisis will take us. Therefore we are evaluating the unique role that GO Virginia can play as we do recover, which we will. Collaboration is going to be more important than ever when we come out on the other side of this. We are working closely with the State Board and staff as they also consider ways to utilize GO Virginia's resources more strategically.
In order to define this new role, we need your help! We encourage all stakeholders, businesses — large and small —associations, and individuals to think about how the grant money that GO Virginia has available can be used under these changing circumstances. This is an opportunity for GO Virginia to contribute to the economic recovery of our region. It is a chance to help all of us get through this crisis and come out strong.
We want to find new ways to use grants to help businesses recover. We want to expand what is the new normal of what GO Virginia can do to support the region. Although we have a framework of guidelines and rules that define the projects we can support, don't assume we can't consider another project because of these.
Be creative and if you have an idea; we WILL look at any opportunity presented to us and find ways to get things done. We will take any chance to make an idea fit within the existing rules.
If you have an idea, please share it with us by filling out the form below.
We see a real opportunity for a new role for GO Virginia, and we are ready to take it on. We are hopeful that we can and will continue to participate in the economic development of our region throughout and after COVID-19.
We believe in the innovation and collaboration that we've seen happen so many times in our region. We're looking forward to your input and ideas about ways we can support Region 3 as it adapts to these challenges and opportunities.
Best,
Randy Lail
Please make sure you follow us on Facebook and LinkedIn where we will share COVID-19 related resources and highlight inspiring collaboration stories.