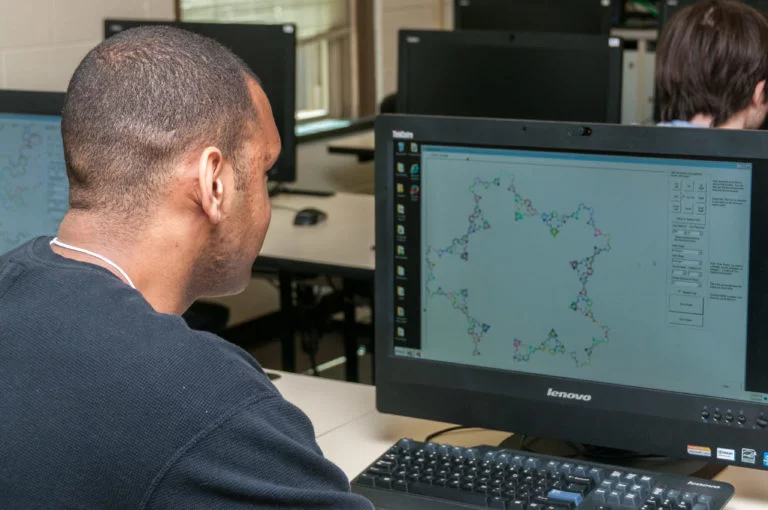 It's getting easier for students in Southern Virginia to do their homework thanks to Jeremy Satterfield and a few of his friends.
TV White Space (TVWS) Homework Gap, an initiative launched by Microsoft, is bringing broadband internet to rural areas of Southern Virginia. Since 2015, approximately 250 homes in rural Charlotte County have received broadband service.
Whatever students can access at school, they can access at home.
"There is one caveat," Satterfield says with a smile. "Only educational content can be accessed. The project works directly with the IT departments of the school systems. Whatever students can access at school, they can access at home."
Identifying the Broadband Gap
Connectivity remains a problem in predominantly rural areas like Region 3. It's also a key need identified in the regional Growth & Diversification Plan. The TVWS project is collaborating with local partners to address that issue.
"TVWS was the brainchild of Microsoft," Satterfield says. "With 12 channels of broadband spectrum available here in Southern Virginia, we knew we could definitely do this."
The project was based on broadband technology that can economically extend broadband connections at a school to reach homes in hilly rural terrains.
"The TV White Space project builds on education in the rural community," Satterfield says. "A lot of folks in rural areas don't have broadband services in their homes. We're taking it to them."
Banding Together
To initiate the project, Microsoft, Mid-Atlantic Broadband (MBC) and the Virginia Tobacco Region Revitalization Commission formed a partnership.
"We met with the superintendents of public schools in Charlotte and Halifax counties to pitch the idea," Satterfield adds. "They were very receptive."
The first home was installed with broadband service the day after Memorial Day, 2015.
"We utilized county-owned facilities and towers and MBC-owned facilities and towers to deploy TVWS equipment across that realm," Satterfield says. "Currently 15 towers are being utilized."
Broadband connections are provided free of charge.
It's Not Just About the Kids
In implementing the TVWS project, all members of the family are included.
"When we did the home installations, we also did a little 'in-house' training with the moms, dads and grandparents," Satterfield says. "The hope is to intuit the thought process of being a lifelong learner."
The TVWS Homework Gap project brought an expanded broadband footprint to the region along with a brighter outlook for future workforce development.
"This project builds on education — the basis for the workforce," Satterfield concludes. "If you have rural broadband, a lot of employment opportunities become available."
What's up Next for Satterfield and Microsoft in Region 3?
In addition to his work on the TVWS project, Satterfield manages Microsoft's new TechSpark initiative aimed at job creation and economic development in the Southern Virginia localities of Brunswick, Charlotte, Halifax, Lunenburg and Mecklenburg counties.
"GO Virginia will be another boost to help with that," he says. "Most importantly these are collaboration opportunities. Region 3 has taken on that mindset, and it's very exciting."