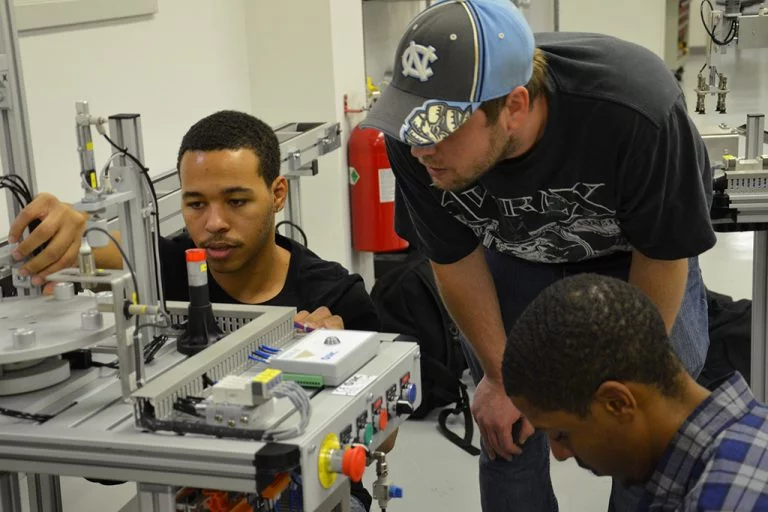 Keith Harkins, Vice President of Workforce Development at Southside Virginia Community College (SVCC), knows the power of partnership. SVCC's Power Line Worker Training Program, now in its third year, is the result of partnership between the community college system and the industry of electric cooperatives.
"The chancellor of the Virginia Community College System held a series of town hall meetings a few years ago," Harkins says. "One of the issues discussed was the graying of the workforce, a particular problem for electric power companies seeking linemen to replace retiring workers."
Adding to the shortage of local linemen was the location of lineman training schools — they were all outside the Commonwealth of Virginia.
"SVCC's Power Line Training School is the perfect example of a public/private partnership. Industry came to us with a problem, and we provided a training program to solve that problem."

Keith Harkins, Vice President of Workforce Development at Southside Virginia Community College (SVCC)
Making it Happen
In June 2015 John Lee, president/CEO of Mecklenburg Electric Cooperative and Jeff Edwards, president/CEO of Southside Electric Cooperative met with SVCC and representatives of the Virginia, Maryland & Delaware Association of Electric Cooperatives to adopt a plan to use $300,000 from the Virginia College System as seed money.
In October 2015 the statewide association and SVCC secured a $200,000 matching incentive grant from Governor McAuliffe's inaugural Competition for Talent Solutions. Virginia's 13 electric co-ops also pledged cash or in-kind donations. In less than a year the investment of $1.2 million was awarded and a lineman training school was in operation.
The Virginia National Guard installation in Nottoway County, where SVCC already operates its Truck Driver Training program, had open land available for the outdoor facility.
"The Ft. Pickett location was a key piece," Harkins says.
Growth Since Day One
"The school started in 2016 with 11 students," Harkins says. "Since then we've had 130 graduates of the program including one female."
SVCC's lineman school offers good paying job close to home. These graduates have found employment across the state and beyond.
"It's a chance for students to stay in Southside Virginia to work," Harkins adds. "We want to train people to work in their own home towns."
"A collective group of contractors is our largest employer, and certainly the electric cooperatives in Virginia have benefited," Harkins notes. "Dominion is one of our largest employers."
A Higher Calling
A fringe benefit of the job, Harkins notes, is the sense of community among line workers. For many linemen, Harkins notes, it's more than a job.
"It's critical to our country that the power stays on and critical to us as individuals that we have power in our homes," Harkins says.
"There's something of a higher calling with this job," Harkins concludes. "Lineman all know each other and are used to pitching in to help other utility companies when there's a storm or other natural disaster. It's truly a way of life."